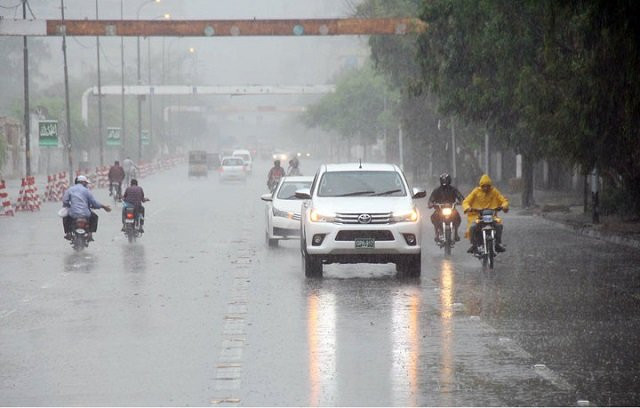 KARACHI:

A monsoon weather system is likely to dump heavy rains on Karachi from July 1, said Pakistan Meteorological Department (PMD).
The metropolis is likely to get more rains as compared with the last year, PMD Karachi Chief Meteorologist Sardar Sarfraz forecasted on Thursday adding, "Monsoon winds will enter Karachi division after bringing rainfall to the otherwise parched district of Tharparkar."
The first wet spell in the port city is likely to last for three to four days, he said attributing the forecast to the satellite image of the precipitation causing clouds moving westwards from the Arabian Sea, on to Southern Sindh in the general direction of Karachi and Hyderabad.
As per Sarfraz the metropolis is likely to get around 30 per cent more rain than usual during the current monsoon season.
The humidity of the monsoon system from the sea increases the intensity of rainfall. In this context, monsoon rains are likely to be above normal during July-August the fabled month of Sawan as per the local calendar.
Also read: Karachi receives first spell of monsoon rains
The duration of monsoon rains is three months from July 1 to September 30, which according to the local calendar stretch from Sawan to Bhadoon.
According to PMD Early Warning Centre, hot and humid weather is expected in the city today (Friday) and Saturday. During the two days, desert winds of Balochistan can blow in the morning and sea breeze in the evening.
According to the Early Warning Center, thunderstorms are expected in Umerkot, Tharparkar, Sanghar and Mirpur Khas. The hot and humid weather is expected to return to Central and Upper Sindh from June 24.
Temperatures are expected to hover between 46 and 48 degrees in Dadu, Jacobabad, Larkana, Qambar Shahdad Kot and Nawabshah.
Meanwhile in Karachi on Thursday, for the second day in a row, the weather remained hot due to hot desert winds blowing in the northwest of Balochistan. According to the Meteorological Department, the maximum temperature was 39.8 degrees and the humidity was 53 per cent.