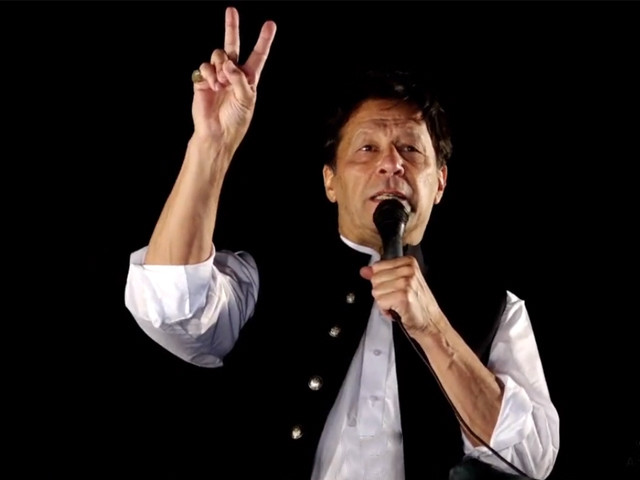 PTI Chairman Imran Khan has claimed that Shehbaz Sharif "fell into the trap" by becoming the prime minister of the country, saying that the latter's ally Asif Ali Zardari outweighed all allied parties including the PML-N.
"Shahbaz Sharif had a great desire to become the prime minister because his elder brother [Nawaz Sharif] also served as premier for three terms but now he has fallen in the trap," Imran said while addressing a rally in Kohat on Tuesday which is part of his party's so-called "real freedom" movement against the coalition government led by the PML-N.
The former prime minister has time and again claimed that a "foreign conspiracy" was hatched to topple his government over his refusal to have Pakistan's foreign policy be influenced by abroad. Since his ouster, he has held public rallies in major cities of the country.
Imran said that in the entire scenario, PPP Co-Chairperson Zardari is enjoying the most because the PML-N is facing criticism on all issues including inflation and devaluation of the rupee.
"Zardari really outweighs the PML-N… he is enjoying as Shehbaz is receiving backlash over rising inflation, depreciating rupee while he is part of the federal cabinet and has 'occupied' Sindh as well," he said.
The PTI chairman said the opposition would call his government incompetent and inexperienced. "They used to tell us that we are incompetent and they are experienced but now where their experience is because the country's economy has been destroyed…"
Also read: Dissenting lawmakers' vote will not be counted: Supreme Court
Commenting on today's apex court verdict on Article 63-A, he thanked the Supreme Court for declaring the votes of dissenting lawmakers as invalid.
"We are thankful to the Supreme Court… the Supreme Court has saved the moralities from damage."
Imran maintained that Punjab Chief Minister Hamza Shehbaz would no longer be able to hold the office of the province's executive following the court's verdict as the PML-N formed the provincial government with the help of rebels PTI MPAs.
"Now I know for sure that chicken prices will come down in Punjab..," he remarked.
The former premier also requested the apex court to hear corruption cases of the Sharif family, saying that they have "destroyed" the Federal Investigation Agency (FIA) to get relief in corruption cases.
"This is a daylight robbery… how can a government destroy any institution…"
He also reiterated his allegations that the incumbent government colluded with the US to topple his government.
"Shehbaz will ask the US to provide his government with dollars to run the economy…or else Imran will return to the power."
He claimed that the incumbent setup terminated the purported agreement with Russia to buy petrol, wheat and gas at discounted rates. "Slaves were ordered to terminate the treaty with Russia."