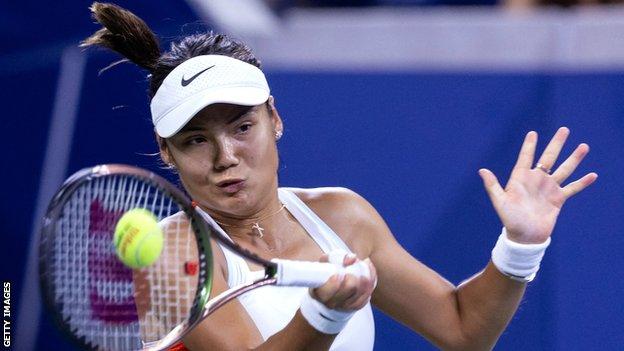 Venue:
Flushing Meadows, New York
Dates:
29 August-11 September
Coverage:
Daily radio commentaries across BBC Sounds and the BBC Sport website and app, with selected live text commentaries and match reports on the website and app
Emma Raducanu's US Open title defence fell at the first hurdle as she lost in straight sets to France's Alize Cornet.
Raducanu, 19, stunned the world by winning the major as a teenage qualifier, but her return to court at Flushing Meadows was less memorable.
The British number one was out-hustled and out-scrapped by the experienced Cornet, who won 6-3 6-3 in New York.
Raducanu, seeded 11th, will tumble down the rankings after losing the points she earned with the title last year.
"This one obviously hurts a bit because it's my favourite tournament and there are a lot of emotions in the past year," she said.
"I'm proud for putting myself out there every match, every day, knowing I'm pushing myself to be the best I can."
Seeing a defending champion knocked out early often feels like a shock, but the reality is that this defeat for Raducanu was not unexpected.
The teenager has found her full-time transition to the WTA Tour a testing one, with the season punctured by niggling injuries that have contributed to inconsistent results.
Even her build-up to the US Open was not without bumps. A poor practice session on Friday was described as "one of those bad days", although she played down the significance of a wrist injury that needed treatment.
Drawing Cornet, a wily and talented player with some notable results at the majors, in the first round was also about as tough as it could have been.
Cornet, 32, is ranked 40th in the world and narrowly missed out on a seeding.
At Wimbledon she ended world number one Iga Swiatek's 37-match winning streak and reached the quarter-finals of the Australian Open at the start of what could be her final year as a professional.
Raducanu showed fight and determination throughout the first set and at the start of the second, but faded as Cornet's relentless resistance wore her down.
How Raducanu's return was ruined by Cornet
A warm ovation greeted Raducanu's arrival for Tuesday's night session on Louis Armstrong Stadium, despite the match being far from a sell-out, and she was given plenty of vocal support throughout.
There were the odd signs of Raducanu's quality as she traded blows with Cornet, particularly in a tussle of a first set, but the reality was she made too many mistakes against an opponent simply in better form.
Raducanu had her service broken seven times and an overall tally of 31 unforced errors illustrated her current position.
That was in stark contrast to the teenager's clean and free-swinging approach last year in New York, where she did not drop a set on the way to lifting the trophy.
A gusty wind whipping around the court made conditions tricky for both players, but Cornet initially handled them better as Raducanu struggled on serve and also to find consistent rhythm in her groundstrokes.
"The way that the conditions were, it was quite difficult because the ball was moving around for me to really swing," she said.
"Alize's defence was pretty good. Like, I thought she was just scrapping everything back. There were junk balls in the middle of the court.
"With the wind blowing around, it was really difficult. She just kept getting it back."
Spraying wayward returns from both sides, Raducanu fell 4-2 behind in the opener and, after breaking back, threw in another poor service game for 5-3 to allow Cornet to take the opener.
Raducanu called for the physio at the end of the set, wincing as she received treatment for blisters on her hand.
"I've been getting some blisters throughout the weeks in the States. But I think that's just down to humidity and stuff," said Raducanu, who also suffered from them during her Australian Open defeat in January.
"You tape it up and move on it. It's a blister. Not much you can do about it."
After returning to court with more tape, things looked ominous when she was broken in the first game of the second set.
But she showed more resilience to break back and, assisted by a string of double faults by Cornet, move 3-1 ahead.
Many of the American fans leapt to their feet, showing their support for the Briton, but the atmosphere quickly dampened as Cornet rediscovered her level to swing the match back in her favour.