The Premier League is 30 this year. That means three decades of the competition being graced by iconic players and outright legends.
We asked you to select your all-time Premier League XI – and boy did you respond!
We had more than 225,000 submissions, in which players past and current featured in all manner of combination.
Here is the most popular XI, judging by your selections…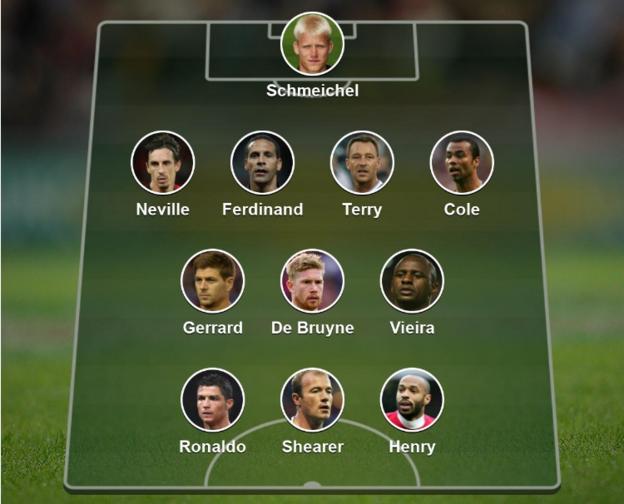 The goalkeeper picks itself, with former Manchester United, Aston Villa and Manchester City number one Peter Schmeichel your choice, with more than 50% of total selections. Chelsea's Petr Cech (20%) was the only other player in double figures.
The back four also has a "classic" feel, made up of Gary Neville (Man Utd), Rio Ferdinand (West Ham, Leeds & Man Utd), John Terry (Chelsea) and Ashley Cole (Arsenal & Chelsea).
A couple of current players – Liverpool duo Trent Alexander-Arnold and Virgil van Dijk – were pushing hard for inclusion, but just fell short.
An active Premier League player does make it into midfield, with Manchester City's Kevin de Bruyne alongside current top-flight managers Steven Gerrard and Patrick Vieira.
The usual suspects – Frank Lampard, Roy Keane and Paul Scholes – were all in the mix for the final XI but couldn't quite match the chosen three for votes.
Your attack was more clear-cut. Former Arsenal forward Thierry Henry was the most picked player overall, with over 155,000 selections. Alongside him is Alan Shearer, who amassed an all-time record number of Premier League goals while playing for Blackburn and Newcastle.
Cristiano Ronaldo is the third man of that potent attack. He was selected more than 117,000 times.
You can still have a go at picking your team and sharing it with your friends using the selector below. However, your picks will not go towards the final XI.
Who would you pick to be in your all-time Premier League XI? Search through 30 years of legends, pick your XI and share with your friends.